Melamine
Onlangs is een bericht in de pers gekomen over de zgn onveiligheid van melamine.
Zorg daarover is heel begrijpelijk..
Het bericht gaat vnl over producten in een mix met bamboe of mais, een samenstelling die Rice niet voert.
De melamine producten van Rice voldoen aan alle EU regels en ondergaan continue de benodigde tests.
De samenstelling van het melamine van Rice is zodanig dat het ruim binnen de toegestane limieten valt. Ook als de regels van de EU aangescherpt zouden worden, zullen de melamine producten van Rice ruimschoots binnen de marges van de gestelde regels vallen.
Niettemin is het vervelend dat deze berichten er zijn, het is echter goed dat de EU hier aandacht aan geeft.
Het is dan ook fijn om te weten dat de melamine producten van Rice al ruimschoots voldoen aan de door de EU gestelde regels. Het geeft eens te meer aan dat Rice staat voor kwaliteit.
Daarmee is ook meteen de vraag, waarom Rice bekers duurder zijn dan die van niet nader te noemen budget winkels, beantwoord lijkt mij.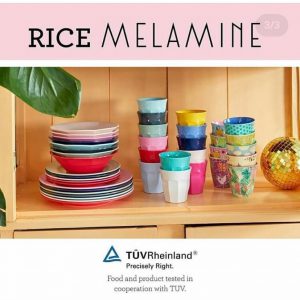 Bestel de super mooie melamine items van RICE makkelijk online bij Halsoverkop. Het is duurzaam, 100% foodsafe en kan in de vaatwasser!
Eindeloos combineren met de mooiste prints en de leukste kleuren.
Maak van jou ontbijt of picknick altijd een feestje met de melamine collectie van RICE!
Welke bekers, kommetjes of bordjes kies jij?
Showing 1–24 of 311 results